I have been a recent convert to the Walk and Drawers, getting fresh air on a cold and crispy morning is not for the faint hearted, but it has given me an insight into what is around us in the Charnwood area.
This week we met at the Pack Horse Bridge in Rearsby, I didn't even know they had one, but this little seven arch bridge alongside the ford which leads up to the church is lovely.  So that was sketch one. 
Once completed we walked up to the church which is unusual as it seems to be a miss match of stones, the bell tower is so different in colour, more granite, to the main body of the church and the alter end of it which seems to be sandstone. Unfortunately we couldn't get into the church to explore further so we stood outside on the footpath and produced sketch 2 – the church.
Continuing along the path, which meandered around several back gardens we traced our steps back into the village and over the stream, walking towards Melton Road and our next stop on the corner opposite the Old Post Office c1823 with windows and doors in pillar box red. Next door is the old Bakehouse and opposite the Wheel Inn. The street scene was perfect for sketch 3.
Moving on towards Mill Lane we found what must be the oldest property in the village c1610, wow this was a characterful building and very tricky to draw in such a short time, but we managed to. The owner came out for a chat which was nice too.  So sketch 4 done.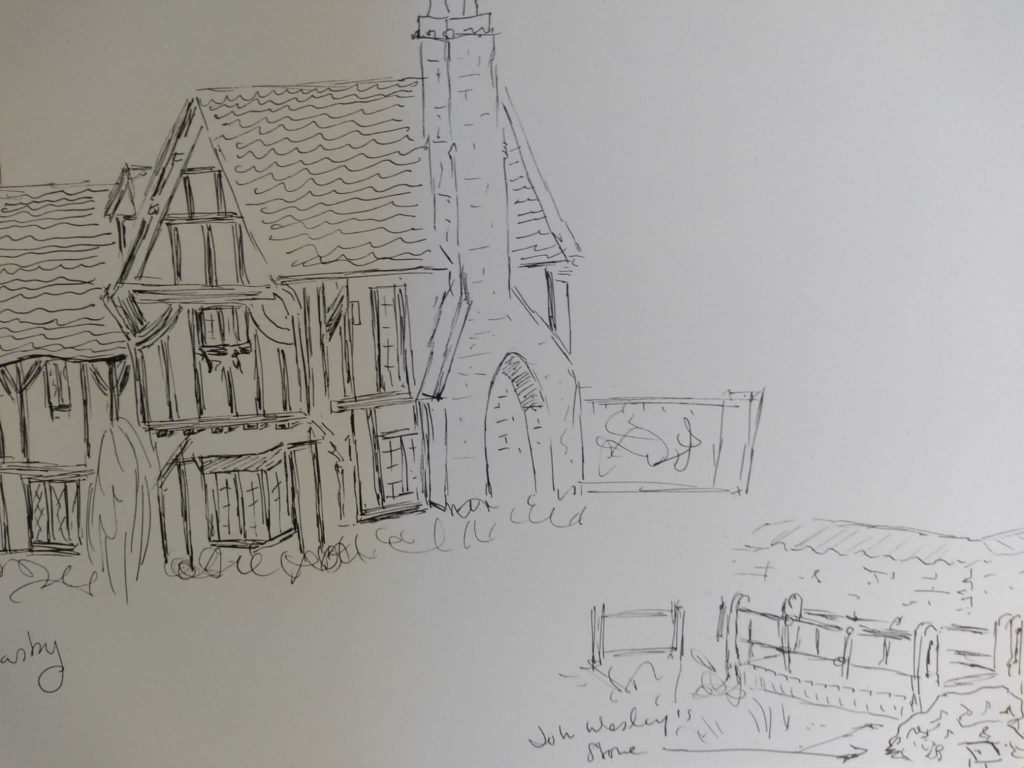 Our final sketch was the infamous John Wesley preaching stone, (it has a plaque and everything). It sits on the edge of the village close to a bridge and the outer wall of Manor Farm which in parts appears to have a cob wall, this apparently must be old as we are unlikely to have the skills to do that nowadays.
So our five sketches for this morning complete its back to the coffee shop to compare drawings and get warm. I am really enjoying the excursions into the local areas, our sketching is improving, we get fresh air and learn so much about a village I have only ever driven through in the past.







by